Transfer Tracker: Wisconsin transfer RB commits to Washington State
Mark Pszonak contributed to this report.
The transfer portal never stops churning. On Monday, Wisconsin transfer RB Nakia Watson made the announcement that he had committed to Washington State.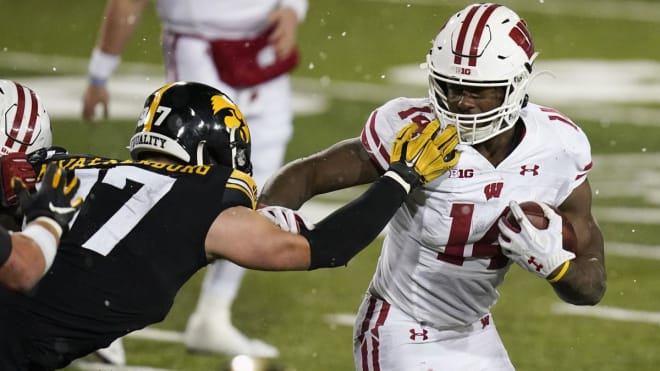 Watson rushed for more than 500 yards with the Badgers (nbc15.com)
Recruiting: Watson picked up his offer from Wisconsin during the spring after his junior season, so despite holding additional offers from schools like Bowling Green, North Texas, Nevada and Harvard, he committed to the Badgers during his first visit to Madison during the summer.
With Badgers: Watson redshirted as a true freshman, and then totaled 522 yards and five touchdown during the next two seasons. He averaged 4.1 yards per carry.
Farrell's Take: Watson is a big, downhill runner that was a nice fit for Wisconsin but he never broke through as the main man. Washington State is an interesting fit because of the passing offense but a guy to pound the ball who can also catch the football will be welcome. He won't be a star but he'll be a valuable move-the-chains short yardage player. Obviously Max Borghi is the man at running back now but Watson will provide a change of pace.
Impact Meter: 5.2 out of 10
IMPACT METER
The Transfer Portal continues to change the way college football programs recruit and manage their rosters so we here at Rivals.com continue to evolve our coverage. Each time a player of note enters the portal, we will examine their potential impact on the college football landscape and assign an impact rating, both when they enter the portal and when they choose a destination. The scale is from 1-10 and the description below explains the scoring scale.
1.1-4.0 — Not a big impact expected, likely a non-starter and down the bench depth player.
4.1- 6.0 — A solid impact can be expected in the right scenario and has the potential to battle for a starting job.
6.1-9.0. — A high impact player who won't change a program but will certainly be a very good contributor and starter.
9.1- 9.9 — A very high impact player who should start the moment he steps on the field and will change the outlook of a program immediately.
10 — A franchise transfer who has a chance to be an All American and one of the elite players in college football.