Transfer Tracker: Tykee Smith commits to Georgia
Mark Pszonak contributed to this report.
The transfer portal never stops churning. On Sunday night, Georgia added a huge piece to their defense when West Virginia All-American defensive back Tykee Smith committed to the Bulldogs.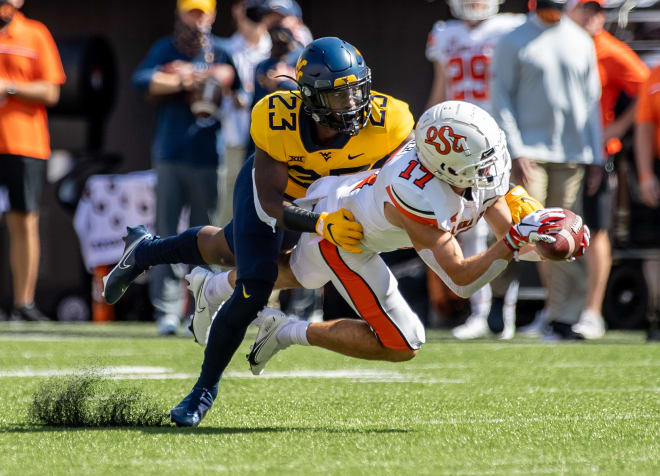 Smith was an All-American in 2020 (Rob Ferguson/USA Today)
Recruiting: Smith trimmed his list down to West Virginia, Baylor and North Carolina before committing to the Mountaineers in the days leading up to the start of his senior season.
At West Virginia: Smith impressed as a true freshman with 50 tackles and two interceptions, before becoming one of the top defensive backs in the country in 2020 with with 61 tackles, eight tackles for a loss, two interceptions and five pass breakups.
Farrell's Take: It's rare when an All American player enters the portal especially in the middle of the spring and so unexpectedly. Smith will have one year to give essentially as he'll be off to the NFL Draft for 2022 for sure with his ability. As he follows his position coach to UGA and the needs that the Dawgs have in the secondary, his versatility and comfort level there will allow for an immediate impact. Smith is great at tracking the ball, he's a hitter and he makes a nasty defense even better. Any impact rating above a 9 is rare but he's that guy.
Impact Meter: 9.3 out of 10
IMPACT METER
The Transfer Portal continues to change the way college football programs recruit and manage their rosters so we here at Rivals.com continue to evolve our coverage. Each time a player of note enters the portal, we will examine their potential impact on the college football landscape and assign an impact rating, both when they enter the portal and when they choose a destination. The scale is from 1-10 and the description below explains the scoring scale.
1.1-4.0 — Not a big impact expected, likely a non-starter and down the bench depth player.
4.1- 6.0 — A solid impact can be expected in the right scenario and has the potential to battle for a starting job.
6.1-9.0. — A high impact player who won't change a program but will certainly be a very good contributor and starter.
9.1- 9.9 — A very high impact player who should start the moment he steps on the field and will change the outlook of a program immediately.
10 — A franchise transfer who has a chance to be an All American and one of the elite players in college football.