Rivals National Columnist Mike Farrell is here with his thoughts on which team is DBU by conference, the top 10 running back transfers and five SEC players who could break out.
1. THE DBU IN EACH POWER FIVE CONFERENCE
Derek Stingley (Getty Images)
It's always fun to discuss which program can rightfully claim the DBU title. Which programs are DBU of their Power Five conference?
SEC — This is a battle. I am picking LSU because Patrick Peterson, Tyrann Mathieu, Jamal Adams and Tre'Davious White are a tough foursome to beat and Derek Stingley and Elias Ricks are next up. Alabama makes a strong case here with Minkah Fitzpatrick, Marlon Humphrey, Trevon Diggs, Eddie Jackson, Landon Collins and Patrick Surtain who will be top 10 in the NFL Draft. Alabama has more but LSU has had better. And Florida? The Gators' defensive backs in the NFL have been average at best with guys like Quinton Dunbar, CJ Gardner-Johnson, Keanu Neal and others being solid but nothing to write home about.
ACC — It's Florida State. Give me Jalen Ramsey, Derwin James and Xavier Rhodes against any trio in the ACC. It's not close.
Big Ten — Do I even have to say it? Ohio State with a million first-rounders over the last several years. NFL stars like Marshon Lattimore, Denzel Ward and long-time players like Malcolm Jenkins runs away with this to me.
Pac-12 — This one is easy as well. Washington reigns supreme as DBU in the Pac-12. Marcus Peters and other lead a deep group from Washington with Elijah Molden up next.
Big 12 — Texas wins this one but it's not pretty as expected. The Longhorns have more defensive backs in the league than others but TCU could take this home after the upcoming draft with Trevon Moehrig and Ar'Darius Washington.
***** 2. THE RUNNING BACK TRANSFERS THAT WILL IMPACT 2021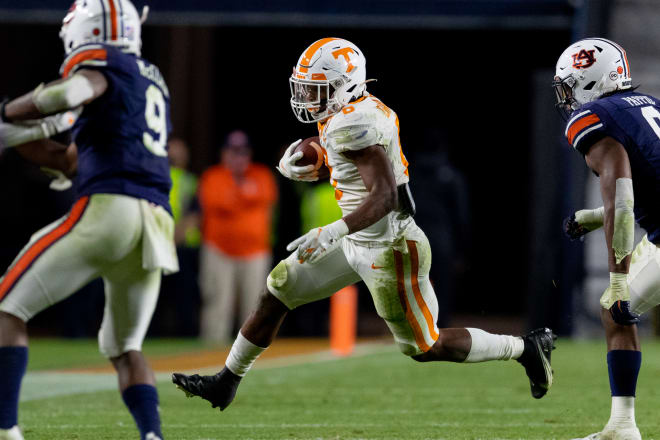 Ty Chandler (Getty Images)
As I continue my countdown of the best transfers so far in this cycle, we move to running backs. These players will make a huge impact on the 2020 season.
1. Demarkcus Bowman, Florida — The former five-star running back headed out-of-state to Clemson but apparently got homesick and is now set to fix a poor Gators running game as the best option they've had in a long time.
2. Ty Chandler, North Carolina — Chandler can't replace both Javonte Williams and Michael Carter but he's impressed with his speed so far and will have a major impact.
3. Eric Gray, Oklahoma — Gray showed a lot of flashes of his talent at Tennessee and could be hard to stop with the Oklahoma offensive line and a passing game.
4. T.J. Pledger, Utah — I love this fit for the former Sooner who heads back west and has a chance to pick up the pieces from the tragic death of Ty Jordan.
5. Zach Charbonnet, UCLA — The former Michigan back started his career in Ann Arbor well but somehow fell out of favor. Now back in Cali, the former four-star should shine.
6. Markese Stepp, Nebraska — The USC transfer has skills in the run and passing game and is a much needed weapon that Scott Frost should utilize.
7. Keaontay Ingram, USC — Ingram leave Texas having shown quite a bit of promise as a tough runner and USC had a huge need for running backs so this is a great fit.
8. Kenneth Walker, Michigan State — This is a quiet one but really a great get by the Spartans as Walker was excellent for Wake Forest and has shown the ability to compete at the Power Five level. He brings needed speed.
9. DJ Williams, Florida State — Williams was a late-bloomer in high school who heads back to his home state and could be a home run hitter for the Seminoles after a very average run at Auburn.
10. Mark Antony-Richards, UCF — Speaking of Auburn, Antony-Richards follows Gus Malzahn out and into a competitive backfield situation at UCF where he could also impact as a receiver.
***** 3. FIVE BREAKOUT PLAYERS IN THE SEC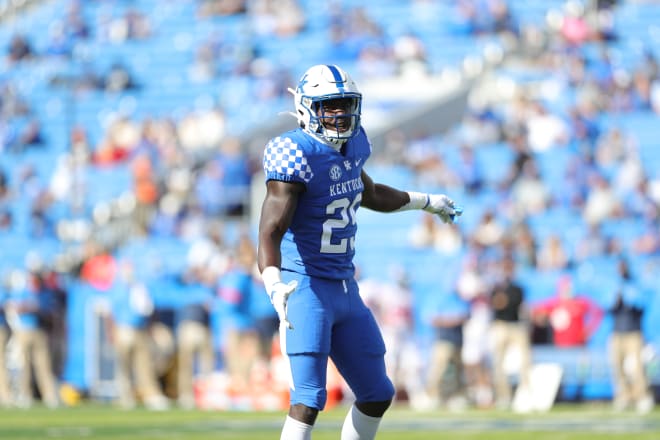 Yusuf Corker (Getty Images)
Look for these five players to break out in the SEC this upcoming season.
1. S Yusuf Corker, Kentucky — Corker gets better every year especially as a key tackler His leadership and experience will make him one of the best defensive backs in the conference.
2. RB Kevin Harris, South Carolina — How can a workhorse like Harris, who rushed for 1,138 yards last season, break out? Because the country doesn't know him yet. They will soon
3. WR Xzavier Henderson, Florida — Henderson is one of a few guys who has the ability to step up, break out and help replace so many lost weapons at receiver.
4. DL Trajan Jeffcoat, Missouri — With six sacks and six tackles for a loss we just started to see the emergence of the speedy pass rusher last season. This year it will be double-digit sacks for sure.
5. RB Jo'Quavious Marks, Mississippi State — He had 70 rushes and 60 catches last season in Mike Leach's offense and I expect huge numbers, at least through the air, this year.